It's gonna be warm, sunny and beautiful on the lake. Much better than hanging out in a parking lot market.
Exercise Class Aboard the Virginia V! – Come on down and meet the instructors from 5focus and take a short class with an amazing view of the lake. Only $10 to try it out!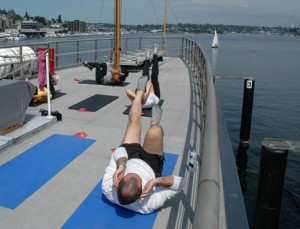 Lots of veggies from local farms, food, crafts and more.
End of Terry Avenue at the wharf (860 Terry Avenue). Look for the big white steamship "Virginaia V". Open to the public. The market will only be open from 11:00 to 2:00 this week due to a late afternoon private charter on the ship.