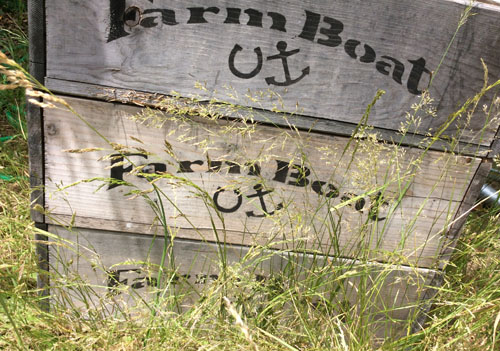 Worn down by soviet style politics, FarmBoat organizers continue to dream of delivering fresh produce and other wholesome local foods to Seattle residences by sea despite ominous warnings by legal advisors not to do so. Some City officials have not yet given up on the idea that FarmBoat may have been harboring a notorious parking scofflaw. The City attorney's office apparently believes that the City is entitled to "something" from FarmBoat and its founders related to the ten-year-old parking debts.
It has been almost two years since FarmBoat was maliciously accused of failing to garnish wages of a person it never employed. The bureaucratic bullying left FarmBoat and other UPWA programs dead in the water. Thousands of hours have been spent in attempts to set the record straight, yet FarmBoat and its founders remain in jeopardy of potential future liabilities and fines related to the trumped up employment charges.

The dark side of Seattle's left-leaning political system is sometimes manifested into outright thuggery by lower level bureaucrats when current law doesn't do enough to support progressive anti-capitalist agendas. This case is a prime example of why Seattle is rapidly losing the small business culture that made it a vibrant city in the first place–leaving many to wonder about a future dominated by politically favored mega-corporations, labor unions and homogenous international franchises.
City administrative officials continue to falsely assert that "FarmBoat" willfully violated RCW 6.27.200, a Washington law that says employers who fail to respond to a garnishment demand within twenty days owe the entire debt of the employee debtor. City revenue collection authorities had known all along that FarmBoat was never an employer of anyone yet insist that the founders of the program should not be treated any differently than major corporate employers like Amazon or Boeing.
Seattle's contract collection agency, AllianceOne, claims that the penalty to employers is a completely different matter than the original $8,000 parking ticket debt–which allows the employer penalty to become a general liability to the City instead of just the traffic court. Although, at the same time, the liability is said by collectors to have no statute of limitations because it originated as a municipal court fine.
FarmBoat and other UPWA programs remain administratively impaired from operating within the City of Seattle unless the scofflaw (or FarmBoat founders) cough up the money to pay the debts and legal fees. (In a curious bit of irony, City officials had known that the scofflaw was employed full-time for the last five years at a popular watering hole frequented by City employees only a few blocks from the municipal courthouse).
UPWA board members ask; "When will the nightmare end?" FarmBoat was an enjoyable and popular free public attraction that shared maritime heritage and connections to independent local food providers via the waterways. What could have been wrong with that? The program was addressing three City and State initiatives to improve transportation, increase access to healthy food and preserve maritime heritage.
For those who don't know, "FarmBoat" was the name given to a weekly community farmer's market event held aboard the historic steamship Virginia V at South Lake Union Park near downtown Seattle that started in 2010. For three years, the unique community farmer's market attracted visitors from all over the Puget Sound region and beyond.
FarmBoat volunteer organizers were individually railroaded into major employer infractions without due process or even proof of being employers of anyone. It should be disconcerting to any Seattle citizen that it doesn't take anything more than an innocuous Facebook posting to trigger the heavy hand of local government to come demanding arbitrary fees without legal justification.
Even though a frivolous lawsuit against FarmBoat was dropped, the City has the ability to levy fines that could be retroactively deducted from business license fees according to administrators. If the City chose this action (either by way of future audits or direct politically motivated initiatives), retroactive cancellation of licenses can result in enormous new fines.
Whether it's Boeing or a part time one-person enterprise, the fine for operating without a license is the same–$513 per day at the discretion of enforcement officers. A revocation of a license going back in time only 90 days, for example, could expose an organization to more than $46,000 in fines under current law according to enforcement officials.
It is unclear why City of Seattle Financial Administrative Services (FAS) continues to assert that FarmBoat violated Washington employer garnishment laws when no evidence of wrong doing was ever substantiated. Some wonder if FarmBoat and other UPWA programs targeted for interfering with ICLEI political agendas aimed at reducing human activity on the water?
A predecessor to Agenda 21 initiatives, ICLEI (International Council for Local Environmental Initiatives) is a world-wide organization fighting global warming through local legislation. The City of Seattle is one of a few leading cities to enact highly progressive legislation that is designed to shield the environment from human activities and corral citizens into high-density urban habitation zones.
UPWA is fundamentally at odds with the City and Port Authority's environmental austerity measures with regard to meaningful public waterway access and use. Board members contend that disconnecting humans from the environment and local heritage is not going to provide incentive for people to care about the environment. An out-of-sight-out-of-mind environmental policy mentality will lead to expensive iron-fisted regulation that can ultimately turn the region into a burn-barrel economy like Detroit.
Maritime organizations of all kinds face harsh criticism from ICLEI endorsed environmental groups such as Puget Sound Keepers who frequently work to kill off water-centric businesses through crippling lawsuits. UPWA hopes to eventually convince City officials and environmental groups that enterprises like the FarmBoat Floating Market boats help to educate and entice citizens to actively make decisions that conserve the aquatic environment. "Everything flows downhill to the sea" says one board member, "people need to be given a reason to care about the downstream effect of what they pour down their drains".
Prior to the forced shut-down, The Urban Public Waterfront Association had been advocating for public support on several waterfront access venues including Pioneer Harbor and Alki Pier.