The Holiday Season is a wonderful time of year to wander down to the waterfront at the new Lake Union Park and partake in the romance of a century ago. We will have LIVE music, locally crafted gifts, gourmet foods and local produce onboard the historic steamship Virginia V.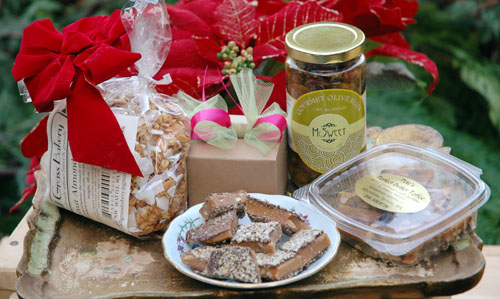 Think local gifts this season!:Organic Gourmet Granola, Trevani Truffles, Pete's Perfect Toffee, and McSweet Pickled Gourmet.
For your employees, coworkers, clients, and associates, we have a variety of corporate gift buying opportunities for you. Show them that you support the local economy this year and order your company's gifts from our vendors!

While your at the market, Have a look around. The Virginia V is the last remaining steamship that was once part of a vast fleet of vessels which traveled all over Puget Sound to bring fresh farm goods to Seattle. The 125′ ship was fully restored a few years ago for a cost of $5 million. The Virginia V is registered as an Historic Maritime vessel which means that everything had to be restored to original – including the massive working steam engine.

Here is a list of vendors for this weeks offerings:
Panettone (an Italian Christmas bread) and Bolo Rei (a Portuguese Christmas bread) made by Maria's Deserts
An assortment of organic winter greens, squash and root veggies from Full Circle Farms. Make sure you load up on these nutrient-rich foods to stay healthy this winter!
Absolutely delicious (Worlds Best) Home made pies by Deborah's Homemade Pies.
Amazing fresh pickled veggies by McSweet Pickled Gourmet. Perfect gift idea!
Handmade fresh gourmet pastas by Pasteria Lucchese – How pasta is supposed to be!
Fresh Baked Breads, Gourmet Granola (*perfect sized gift bags), and Cookies by Tall Grass Bakery in Ballard.
Butter toffee and fudge by Pete's Perfect Toffee – it's from a family recipes passed down through three generations. You can't go wrong with these under the tree!
This is chocolate lovers paradise! –Trevani Truffles. A most special gift idea if you don't eat them all up yourself.
Baked Lunch Food to Go from Nollies.
Traditional Native American gifts from Haida First Nation tribal member Saaduuts. He will be carving and decorating ceremonial canoe paddles and sharing stories about the local culture that thrived in the Pacific Northwest.
Lolabella Creations will be providing hand-crafted hair accessories just perfect for holiday affairs and personal gifts.
Cedar Wave Adventures by Sea will be offering private cruise certificates on their fleet of classic wooden yachts. Experiential gifts are really in this season!
Farmboat volunteers will be offering Apples and Pears sugar pumpkins for your healthiest holiday pies – from Marshland Orchards. – There still growing so we keep buying. We also are bringing Fresh canned (bottled) organic apricots by Rama Farm. Traditional cedar and holly swags will be available to help you decorate for holiday festivities.
Cascade Harvest Coalition has a new cook book featuring recipes for local foods.
To set the festive atmosphere, Pasquali will be providing LIVE instrumental holiday music!
Location: Lake Union Park Wharf – 860 Terry Ave N. 11:00 AM to 3:00 PM