THURSDAYS, 11:00 AM to 3:00 PM – NOV. 11th – DEC. 23rd!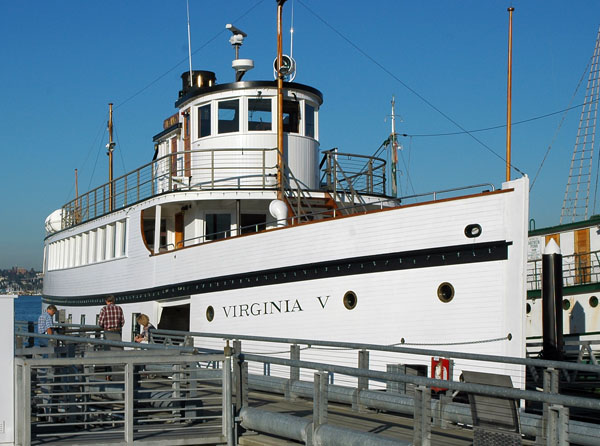 The October Farmboat Floating Market debut was a big success. Many people wondered down to the docks at Lake Union Park to see what Farmboat was all about–-classic boats, local foods, folk music and a chance to learn about local farms and maritime heritage. With the chilly winds of winter nearly upon us, organizers of Farmboat have decided to continue the market indoors for November and December aboard the historic steamship "Virginia V' moored at Lake Union Park.

The Virginia V is the last remaining survivor of a vast fleet of independently operated vessels that transported farm products around Puget Sound in the early 1900's. The Virginia V foundation has granted permission for Farmboat to utilize the 125′ historic steamship for the Farmboat Floating Market. There is plenty of space onboard for setting up an indoor market out of the cold and rain. This special Farmboat floating market will be a focal holiday attraction at the new Lake Union Park–capturing the romance of the sea and the excitement once shared by early Northwest inhabitants when boat loads of fresh produce and seafood arrived at the dock a century ago.
The Farmboat Winter Market at Lake Union Park will occur on Thursdays starting November 11th from 11:00 AM until 3:00 PM. The market will feature a variety of local foods and crafts appropriate for the holiday season. There will be over 20 vendors selling fresh produce, gourmet foods, crafts and more. Some markets will host maritime folk music entertainment too. The ship will be staying at the dock so shoppers can arrive and depart anytime during market hours.
Farmboat is striving to create a festive and nostalgic atmosphere reminiscent of the old days. Vendors are being asked to dress the part with prizes given out for best costumes. The public is encouraged to bring their cameras or dress up in 1920's attire and win prizes too!